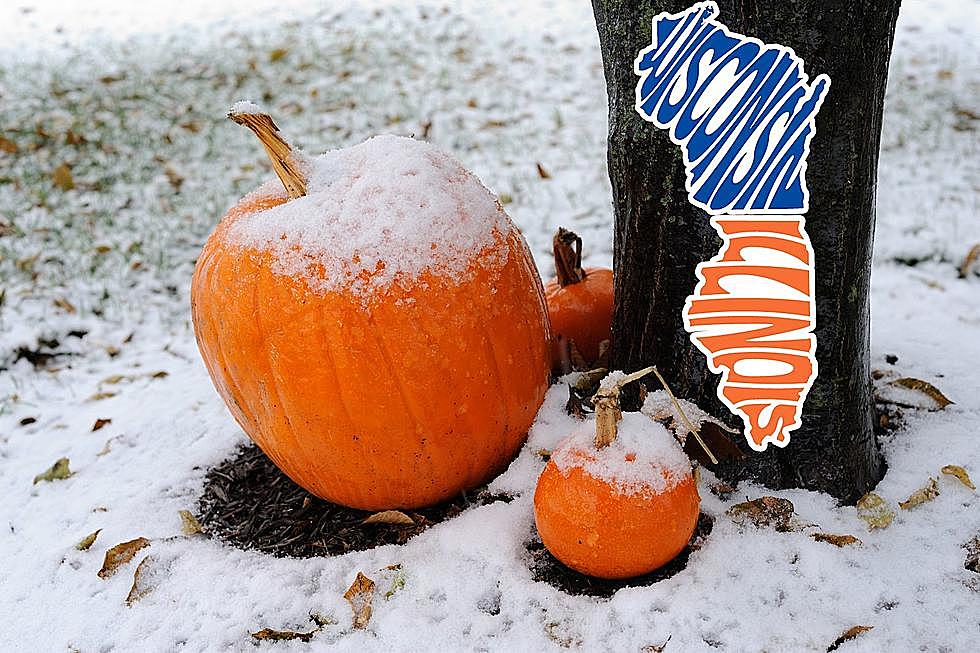 How Much Snow Will Illinois and Wisconsin Get on Halloween?
Canva
It wasn't that many years ago kids had to wear snow boots with their Halloween costumes after several inches of early-season snow accumulated in the Stateline.
The Snowiest Halloween on Record Was 2019
According to the National Weather Service, the 3.1 inches of snow in Rockford and 3.4 inches in Chicago that accumulated on October 31, 2019, was the most on record for Halloween.
The coldest Halloween in Chicago history was 23 degrees in 1873, and in Rockford, the low dropped to 14 degrees setting the record on October 31, 1925.
1950 was the warmest Halloween on record when the high hit 84 degrees in Rockford and Chicago, with the wettest being in 1994 when 2.14 inches fell in the Windy City on All Hallows Eve.
Freeze Warning for Northern Illinois, Southern Wisconsin
National Weather Service has a Freeze Warning in effect from 12 a.m. to 9 a.m. on Monday (10/30) for the Rockford region and the Chicagoland area.
Frost and freeze conditions will kill crops, other sensitive vegetation and possibly damage unprotected outdoor plumbing. -National Weather Service
Overnight lows are expected to be below-freezing through this Thursday (November 2).
First Snow Accumulation is Possible on Halloween
The current forecast from the National Weather Service for Rockford is predicting "snow likely" on October 31 but "mainly between 7am and 10am."
There's an 80 percent chance of precipitation on Halloween for the Rockford region with "periods of snow showers after 10am," according to the N.W.S. Accumulation is expected to be "less than one inch."
In Chicago, there's a 50 percent chance of snow showers on Halloween, according to the latest forecast from The Weather Channel.
Parts of Wisconsin Could Get Several Inches of Snow on Halloween
Higher snowfall amounts are possible the further north into Wisconsin you go.
Beloit and Janesville could get around an inch of snow accumulation on October 31, but the current forecast for Madison has up to 2 inches of snow on Halloween.
75 Years Ago, Monster Tornado Destroys 80% of Small Illinois Town
Gallery Credit: Ancient Air Theatre via YouTube